The prices in this guide are accurate, as of 2023* 
Adding a patio to your garden is a great way to create an outdoor living space for you to relax in and enjoy the good weather. 
A garden patio can make hosting for guests even more enjoyable, creating the perfect space for dinner parties and gatherings. 
What's more, they're also incredibly versatile, offering a huge range of design options and materials for you to choose from. You can truly get creative with your new patio, showing off your style and personality. 
A garden patio area can also increase the value of your home, as they're considered very appealing to many prospective buyers.  
How much you end up spending on your patio installation will depend on the size of the patio you're looking to get, and where you live in the UK, as cost of labour rises in London and the South East. You could spend anywhere from £550 and £5,600 on your new patio. 
This cost guide will always specify where prices include cost of labour and materials, and where it refers to them separately.  
The benefits of a patio include: 
Improves the aesthetics of your garden  
Adds value to your property 
Long lasting  
Low maintenance  
Can help prevent flooding and improve your homes drainage 
Great for outdoor entertainment  
Multiple-use space 
There's just so much you can do with a patio. If you're thinking of investing in (and extending) your outdoor space, a patio is a great way to do so. 
Before you get started on your patio, there are a few things you should keep in mind: 
Think about the positioning of the sun, and where it falls at different times of day, this can help you decide where to place your patio to make the most of the good weather 
How big do you want your patio to be? It might be worth checking out some patio furniture to figure out what you want, and how much space you'll need to comfortably lay everything out 
Consider how things will look combined together. Think about where you want to place your plant pots and greenery, so you can make sure you properly integrate your patio into your outdoor space. Avoid hard edges between paving and your lawn, as these tend to look visually unappealing and uninviting  
Pick a patio material that matches your home's style so that it doesn't stick out. We recommend you shop around and test out a few samples before you commit to a particular pattern or style 
How much does a new patio cost?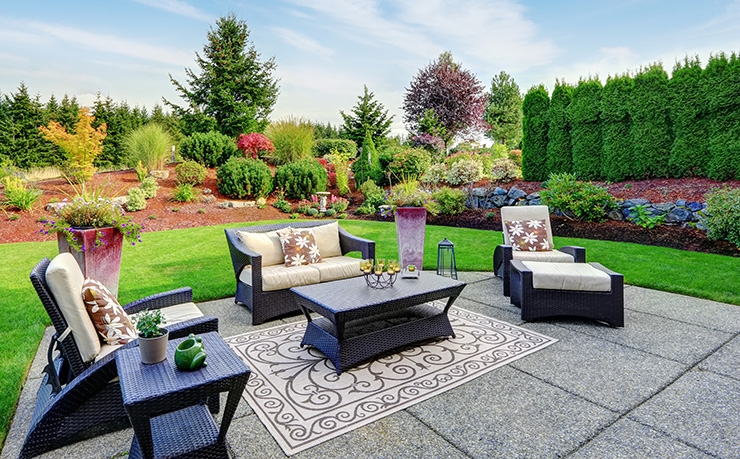 These prices include cost of labour and patio materials. How much you'll end up spending will depend largely on which material you choose to buy, and the size of your patio. 
| | | | |
| --- | --- | --- | --- |
| Patio material  | Average cost for 10m2   | Average cost for 20m2  | Average cost for 40m2  |
| Slate  | £600 – £700  | £1,200 – £1,400  | £2,400 – £2,800  |
| Brick  | £550 – £900  | £900 – £1,400  | £1,400 – £1,800  |
| Sandstone   | £1,000 – £1,100  | £,2,000 – £2,200  | £4,000 – £4,400  |
| Concrete  | £500 – £600  | £1,000 – £1,200  | £2,000 – £2,400  |
| Natural stone  | £800 – £1,350  | £1,400 – £2,500  | £2,400 – £4,600  |
| Granite   | £700 – £750  | £1,400 – £1,500  | £2,800 – £3,000  |
| Limestone  | £900 – £1,000  | £1,800 – £2,000  | £3,600 – £4,000  |
| Coloured concrete  | £600 – £800  | £1,200 – £1,600  | £2,400 – £3,200  |
| Marble   | £1,200 – £1,400  | £2,400 – £2,800  | £4,800 – £5,600  |
| Paving blocks  | £700 – £900  | £1,400 – £1,800  | £2,800 – £3,600  |
| Porcelain   | £800 – £1,000  | £1,600 – £2,000  | £3,200 – £4,000  |
Cost to buy and install a patio
The average cost of a new patio, per m2, is between £55 and £150. 
The average tradesperson will charge between £100 and £150 a day to lay your patio. It should take between two and five days to lay a patio, depending on its size. 
Labour cost ranges depending on where you live in the UK. For a more accurate quote on how much you could spend on your patio installation, let us know what you have in mind and talk to some patio pavers today.
FIND A LANDSCAPE GARDENER
Close section ↑
How much does it cost to clean and seal a patio?
When it comes to looking after your patio, cleaning and sealing it is the most common form of maintenance, protecting your patio from dirt build-up and the effects of weather exposure. 
The cleaning involves jet or pressure washing your patio with professional machinery, whilst sealing involves laying paver sealant over the clean patio to create a barrier between the material and the elements.  
Periodically performing this task will ensure your patio continues to look brand new, years after you have it installed. On average, you could pay anywhere between £200 and £400 to have your patio professionally cleaned and sealed. 
Patio waste removal costs  
You might also need to hire a skip to get rid of excess materials and soil, as well as other rubbish created during the installation of your patio. On average, hiring a skip costs anywhere between £120 and £400, depending on where you live in the UK, and what size skip you want to hire. 
Do you need planning permission for a patio?
There are no restrictions when it comes to laying a hard surface on the ground (or near ground level) of your garden. If you think your project might require significant terracing or embanking to support your patio, then you may need planning permission.  
Different rules apply for paving your front garden and driveway. 
For more information, access the Planning Portal website. 
How to save on laying a patio
There are definitely a few tips you can follow to save money on your new patio. Not all of these will necessarily apply to you but being conscious of these money-saving tricks before you start your project is a good idea. 
If you want to connect your patio to electricity or plumbing, then situating it close to your house will reduce costs 
Pick an area of your garden that isn't sloped. Otherwise, you will need to pay to level your soil or add retaining walls to your patio 
If you have large trees in your garden, patio laying around these can save you money on tree removals and can also enable you to create a patio area with natural shading, rather than spending money on an awning or pergola. 
Always hire skilled tradespeople. You may think you're saving money by hiring cheap, inexperienced labour, but this is only more likely to lead to further costs down the line for repairs, or even an entire patio replacement. 
Think about whether hard landscaping is the best option for you. Patios are one of the more expensive garden projects you can get done. If you're on a budget, look at our garden landscaping cost guide for some other, cheaper options. 
Conclusions
Having a garden you can properly relax and entertain guests in is priceless. A patio area can turn your garden into a liveable outdoor space, which you can then design to your liking, choosing the materials and design for the patio itself, but also the furniture and finishing touches to go on top of it. 
Whether you want an outdoor kitchen, or a dining table to eat your meals on during the warmer months, the possibilities are endless. You could even get a hammock! 
How much you'll spend will depend largely on the size of the patio you're thinking of getting, your choice of materials, and where you live in the UK. 
We recommend you ask for multiple quotes before you settle on your chosen tradespeople. Let us know what you have in mind and get some free quotes today.
FIND A LANDSCAPE GARDENER
*The Rated People cost guides are produced in collaboration with the quote-building platform PriceBuilder, and a range of tradespeople across the 30+ trades on our platform were consulted. Please note that the prices included are for guidance only – how much you end up spending will depend on the specific requirements of your project.