The prices in this guide are accurate as of 2023* 
A set of new windows can update the appearance of your home, helping to modernise it with minimal building work. 
Importantly, new windows will also improve your home's energy efficiency, thereby lowering your carbon footprint. This is because a lot of heat is lost through your windows and walls, so insulating them properly will help reduce your energy bills. 
Not to mention that new windows will increase the value of your home and make it look more appealing to prospective buyers, who might otherwise be put off by damaged or outdated looking windows. 
Depending on your choice of materials and the type of windows you want to get, you could end up spending anywhere between £450 and £3,500 to replace a window in your home. 
How much you end up spending will depend largely on where you live in the UK, with the cost of labour rising in London and the South East by as much as 20% more on average. Prices range according to different materials and window styles, as well as window size. 
There are many benefits to renovating your windows: 
Reduce the amount of heat lost to the outside  
Lower your energy bills  
Keep your home warm in the winter  
Reduce your carbon footprint  
Reduces cold spots and draughts in your home 
Reduces condensation building up on your windows  
Insulate your home from outside noise  
How do I know when my windows need replacing?
There are a few things that can flag that it's time to replace your windows. These include: 
You can feel a draft  
Your window frames are chipped, feel soft, or look water damaged 
Condensation builds up 
Cracked windows  
You find it hard to open and close your windows or your windows are stuck shut 
Your home isn't very soundproof  
Your carpets or furniture looks faded 
High energy bills  
Outdated style that could bring down the value of your property 
You still have single pane windows  
If any of these look familiar, it might be time to replace your windows. You can hire a skilled tradesperson to complete the job here.
FIND A WINDOW FITTER
Close section ↑
What is the average cost to replace windows?
The three most popular window replacement materials are aluminium, uPVC, and timber. Below are some prices for what replacement could cost you, depending on what type of windows you want. 
These prices include cost of materials and installation. 
| | | | |
| --- | --- | --- | --- |
| Type of window  | Aluminium + double glazing   | Timber + double glazing  | uPVC + double glazing  |
| Casement window  | £600 – £1,500  | £700 – £1,800  | £450 – £1,250  |
| Sash window  | £900 – £2,300  | £1,000 – £2,700  | £700 – £1,800  |
| Bay window  | £1,500 – £3,800  | £1,800 – £3,500  | £1,200 – £3,000  |
| Tilt and turn window  | £650 – £1,700  | £800 – £2,000  | £550 – £1,400  |
Cost of window replacements
How much you spend will also be impacted by the size of your windows, with larger windows usually costing more to have installed. Windows on a second or third floor will cost more to replace than first floor windows. 
These prices include the disposal of your old window materials as well. 
Supply costs only for window materials can range from: 
£250 – £400 for uPVC 
£400 – £1,200 for wood 
£400 – £800 for aluminium  
On average, a tradesperson will charge around £150 to £250 a day to install your windows. How much you end up spending on labour will be impacted by your location in the UK, and the number of windows you want replaced. 
You might get different rates for multiple window installations. 
You can ask for some free quotes on window replacements here:
FIND A WINDOW FITTER
Close section ↑
Is triple glazing more expensive?
Triple glazing is more expensive than double glazing, though it is a more effective insulator, meaning that triple glazed windows are more likely to reduce your energy bills in the long run. 
On average, you could pay between £2,000 and £3,500 to have 4 triple glazed casement windows installed. 
A skilled window fitter can help you decide whether triple glazing is a good option for you. You can hire a tradesperson here.
FIND A WINDOW FITTER
Close section ↑
How much does it cost to buy and install a skylight?
A new skylight or roof window could add a lot more natural light to your home, improving ventilation and helping you cut down on your energy bills. 
How much you spend installing a new skylight or velux window depends on the type of window you want, and the size you want it in. 
If you're replacing your skylight because it's damaged, a new one will cost you between £1,100 and £1,500. If the damage is less severe, a repair could cost you between £300 and £600, such as if your roof window leaks. 
What is the average cost to repair windows?
Perhaps your window frames are in good condition, but the glass needs replacing, because the glass has smashed due to an accident or a burglary.  
The average cost to have a window repaired is between £100 and £250, depending on what type of window you have and its size. Where you live in the UK will also impact on costs. On the lower end, it could cost as little as £50 with a higher cost bracket of £300 to supply and install new window glass. 
Can you replace windows without planning permission?
You don't usually need planning permission to replace windows, as long as: 
The windows you are installing are of a similar appearance to those used to construct the house  
Windows on an upper-floor side elevation have to be obscure-glazed and non-opening or no more than 1.7 metres above the floor level 
You don't live in a listed building or in a conservation area  
If you are only making minor changes, or are installing internal secondary glazing, you won't typically need permission. 
If the window you are having installed is a roof skylight, different rules apply.  
For more information, access the Planning Portal website. 
How to save money on replacement windows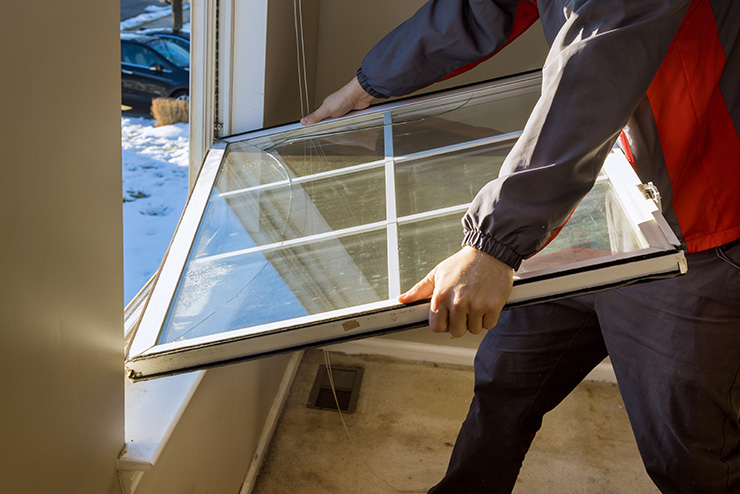 The best thing you can do if you want to avoid spending more money than you bargained for on your replacement windows is to do some research, plan ahead, and set a budget. This will help you find the best options for you, filter through less good offers and quotes, and stay on track to spend as much as you are comfortable spending.  
On top of this, some other tips include: 
Get the job done at the right time. Window fitters are most in demand during the spring and are likely to raise prices during this period of the year due to high levels of work. Hiring labour during less busy periods of the year is likely to save you money. You are also more likely to find sales on materials during the slower seasons such as the winter and summer. 
Question whether you need triple glazing. Triple glazing is more expensive and depending on your home's age and how well your property is insulated, triple glazing isn't always necessary, as double glazing is more than enough to properly insulate your home and save you money on your energy bills. 
Have multiple windows installed at the same time. Window companies often offer better deals when you bulk buy materials, and you'll get a better package deal from your tradespeople for multiple windows, than if you replaced them one at a time over the course of several years. 
Always ask for multiple quotes before you settle on your tradespeople. This will help you get a sense of how much your window renovation could cost you, and the upper and lower ranges for your project, so that you can make an informed decision about who you want to hire. And always hire skilled labour. This will avoid you having to pay more money down the line for repairs. 
Consider fixed windows over operable ones. These are cheaper to install, and if you already have good ventilation in other parts of your home, a few fixed windows could lower costs. 
If you're thinking of getting your windows renovated, let us know what you have in mind, and get some free quotes today.
FIND A WINDOW FITTER
Close section ↑
Conclusions
Renovating your windows can improve the aesthetics of your home whilst decreasing your energy bills and helping you keep your home warm in the winter and cool in the summer. 
Regardless of whether you choose to go with double or triple glazing, A-rated glazing can significantly reduce your energy bills and carbon footprint. A-rated double-glazed windows for a semi-detached and gas heated property can save a homeowner £145 a year and 335kg of carbon dioxide. Over time, glazing will pay you back for the overall cost of installation. 
There are a range of prices for new windows, impacted by size, choice of design and materials, and where you live in the UK. 
If you're thinking of getting new windows, let us know what you have in mind, and get some free quotes today.
FIND A WINDOW FITTER
*The Rated People cost guides are produced in collaboration with the quote-building platform PriceBuilder, and a range of tradespeople across the 30+ trades on our platform were consulted. Please note that the prices included are for guidance only – how much you end up spending will depend on the specific requirements of your project.