Now that summer is finally here, most of us with gardens are trying to make the most of the sunny outdoors. A pergola is a great way to increase your outdoor living space, making it a popular summer renovation project for many homeowners across the UK.
Read on to find out everything you need to know about getting a pergola installed in your garden.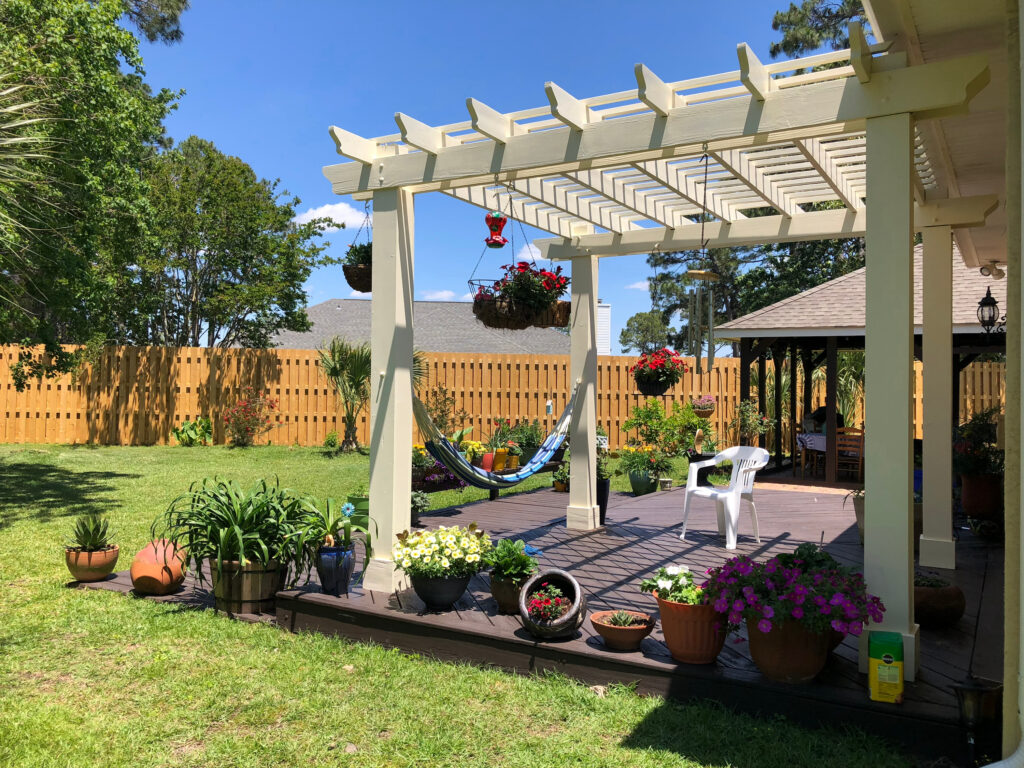 What is a pergola?
A pergola is an outdoor structure usually found in gardens and patios. They are usually made of vertical posts that are supported by horizontal slats or beams that create a frame. They are designed to provide partial shade, but also serve an aesthetic purpose. Bigger than an arbor but usually smaller than a gazebo, they're the perfect shaded spot for your backyard.
You can get:
Wooden pergolas
Metal pergolas (a steel pergola or an aluminium pergola are the most popular choices)
Vinyl pergolas
Your choice of material will depend on climate and personal preferences. You can also get them in a range of styles and sizes, or you can even build one yourself if you're a confident DIYer! As well as freestanding pergolas, you can get a corner pergola or a wall mounted one.
Thinking of getting a pergola installed? Speak to a skilled garden landscaper today to get started.
What is the point of having a pergola?
The main reason to get a pergola is to create a spot in your garden that is shaded, and that you can use to enjoy your outdoor spaces away from direct sunlight. Because pergolas have an open framework, they're still really airy, allowing air to flow through and keep you at a comfortable temperature.
As well as this, they're a great aesthetic design feature for your garden. You can get yours built with intricate designs such as lattice or trellis-style sides, or grow climbing plants up the beams to decorate yours with blooming flowers.
By building yours with side panels, you can also add privacy to your garden, extending your outdoor living space for dining or lounging away from the eyes of neighbours or people passing by.
How to decorate your pergola
Here are a few ideas to get you started:
Plants – by planting flowers and vines, you can create a leafy canopy for your pergola whilst giving it a natural, scented aesthetic.
Garden furniture – create a seating or dining area under your pergola using chairs, pillows, outdoor rugs and a low coffee table or dining table. Make sure to pick weather resistant options that are well suited for the outdoors.
Fairy lights – nothing creates a magical atmosphere quite like fairy lights. Wind them around your pergola beams or drape them from the rafters to create a cosy atmosphere to enjoy your pergola in once the sun goes down.
Decorations – small details go a long way in creating the perfect spot in your garden. Consider wind chimes, water features like birdbaths, outdoor sculptures and pottery or even hanging lanterns or planters full of flowers.
There are plenty of decorative accents and garden furniture options for you to choose from, and that will help you create a pergola that matches your garden's style and aesthetic. How you decorate yours will also depend on what you intend to use it for…why not build one over your hot tub, or on top of your garden deck? A skilled garden landscaper can help you decide:
FIND A GARDEN LANDSCAPER
What is the difference between a pergola and a gazebo?
The main difference between a pergola and a gazebo is that pergolas are open structures with an open roof that lets sunlight through. Instead, gazebos are usually partially or completely covered by walls and a roof, making them a standalone structure that protects you more fully from the elements.
Because of this, pergolas only really offer an airy, partially shaded spot to sit or dine in, whereas gazebos are more of a room that is fully sheltered from rain, sun and insects.
If you're choosing between the two, ask yourself what you want to use the space for. If you want to host dinners, then a gazebo is the better choice, as you won't have to worry about the weather. If you have a small garden or a small budget, pergolas might be a better fit.
What is a pergola with a roof called?
A pergola with a roof is usually referred to as a covered pergola. Opting for this offers more shade and protection from the elements, allowing you to use your pergola in different weather conditions.
The most common pergola roof materials are:
Polycarbonate sheets
Metal panels
Shingles
Fabric canopies
Which you go for will depend on how much weather protection you need (how durable you need the roof to be) and aesthetic preferences.
Is it cheaper to build or buy a pergola?
In general, building your pergola yourself will usually be more cost effective than getting one custom built or buying a pergola kit. However, if you're not a confident DIYer and don't have the necessary skills and tools, then you might want to consider whether buying one or having one built for you would potentially be a better option, especially if you don't have a lot of time to invest in the project.
We recommend you compare prices online, and speak to a skilled garden landscaper to request a quote. You can do so here:
FIND A GARDEN LANDSCAPER
How much does a pergola cost?
If you want to DIY your pergola, you can expect to pay anywhere from £300 to £1,500 or more, depending on how large you want yours to be, your choice of materials, and any additional design features.
Pre-made pergola kits can normally be bought from around £600 to anywhere upwards of £3,000. With a pergola kit, you'll get given everything you need to install the pergola yourself.
Lastly, custom built and professionally installed pergolas can cost anywhere from £2,000 to upwards of £10,000, again depending on the scope of your project, and where you live in the UK, with cost of labour rising in the South.
Do I need planning permission for a pergola?
Whether or not you'll need planning permission for your pergola depends on its size, location and how close it is to other buildings. Small pergolas may well fit under permitted development rights, but we recommend you make sure before you get yours installed.
To find out more, read our planning permission guide.
What are the cons of a pergola?
Though pergolas are a great addition to any garden, they do come with some drawbacks:
Though they offer some shade from the sun, their protection from the elements is limited. Unless you get a covered pergola, you should keep this in mind.
Pergolas have an open design. This means that, unless you invest in side panels or screens your pergola will only offer you limited privacy. You might want to consider outdoor curtains, drapes or plants that can help you create a more secluded spot.
Your pergola will require regular maintenance (especially if it's made of wood) and you may have to occasionally prune the climbing plants on your pergola if you choose to wind them around the structure.
Despite these things, loads of people still choose to get one despite these drawbacks. It all depends on what you want to use yours for, and whether you have the space for one. Speak to a garden landscaping specialist to find out more.
FIND A GARDEN LANDSCAPER
How to look after your pergola
To keep your pergola in good condition, so that you can enjoy it all year around, we recommend you:
Regularly remove debris like twigs and leaves using a brush or leaf blower, and ensure no dirt builds up on the roof of your pergola, if it has one, by washing it with soap and water or by getting it pressure treated.
Occasionally, check for damage or wear such as warping wood, cracks or loose nails. This will ensure you deal with issues before they get worse.
During the winter, remove fabric canopies or curtains and store them indoors, opting instead for more weather-resistant materials to protect your pergola during the winter.
Trim climbing vines and plants to prevent them from overgrowing and causing damage to the structure or roof of your pergola.
Periodically apply protective stains and sealants to your pergola (especially if it's made of wood) as this will prevent moisture damage and rot.
A pergola is a great addition to your garden, creating a relaxing focal point to enjoy the warmer months under and the perfect spot to entertain guests in. There are so many sizes and design features for you to choose from, allowing you to build one that fits your needs and interior design preferences.
Are you ready to get started? Speak to a skilled landscape garden to request a quote today.
FIND A GARDEN LANDSCAPER