Let's face it, lots of people are feeling the pinch this year. With costs rising sky-high, homeowners across the UK have had to reduce their home improvement budgets for 2023.
However, we don't think this should stop you making purse-friendly, smaller décor updates that can still give your home a luxury feel. You don't need to break the bank to create your dream home aesthetic.
In fact, according to our 2023 Trends Report, 1 in 3 homeowners are definitely planning home improvements this year. Why don't you join them? Decorating on a budget IS possible, and we're here to show you how with a few budget decorating ideas…
5 tips for decorating your home on a budget
1. Save money on paint
Giving your walls a new lease of life is a great way to upgrade a room on a budget. A fresh coat of paint is an easy DIY option, not to mention an incredibly versatile one! Let your home's personality shine through…
We recommend an accent wall – a wall in a room that stands out and creates a focal point. By adding a pop of a different colour on just one wall, you'll save money on paint supplies whilst adding visual interest and depth to a space. Accent walls tend to require less than 3 litres of paint, totalling spend to around £20.
When it comes to paint, make sure you use an online calculator to help you decide how much paint you need. This will help you avoid overspending. To save even more money, consider a repaint scheme that sells unused paint for as little as £2 a litre. Otherwise, consider cheap wallpaper retailers as a good alternative to paint.
Pick a colour and grab a brush to get started…Or, want someone to paint your accent wall for you? Speak to a skilled painter and decorator today.
FIND A PAINTER AND DECORATOR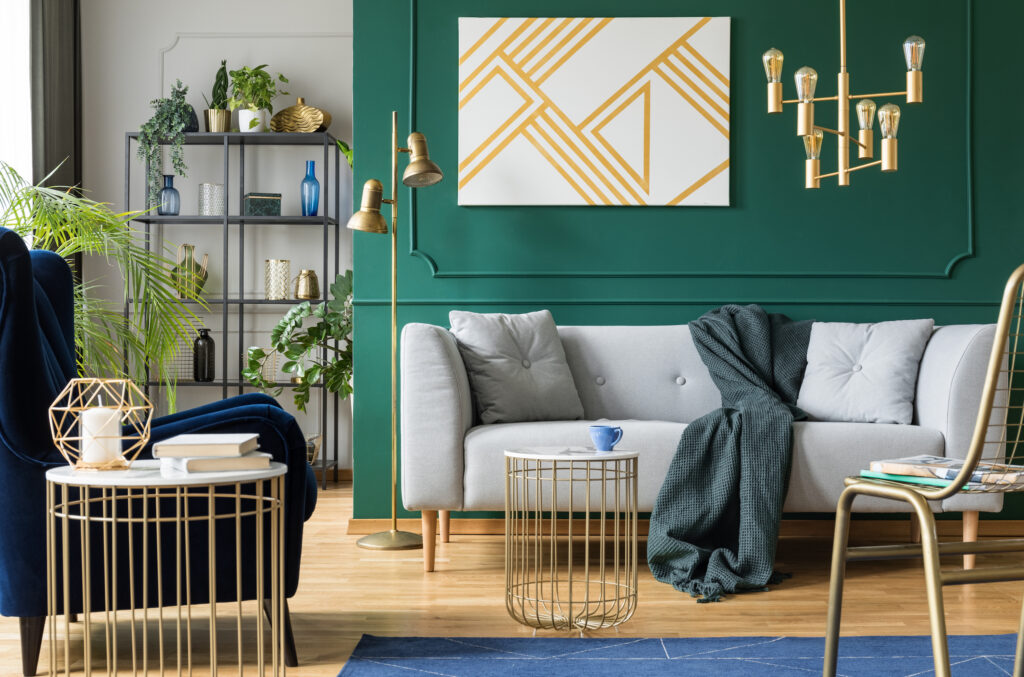 2. Part updates
According to our 2023 Trends Report, 1 in 4 homeowners are planning 'part updates' this year in order to help them cut back on costs and prevent waste.
This includes smaller renovations like replacing your kitchen cabinet doors rather than the whole cabinets. This will still give your kitchen a makeover, but without things getting too costly.
In fact, updating old fixtures is a fantastic way to decorate on a budget. Replace knobs, light switches and handles to refresh your home. You'll be surprised to see how much of a difference it makes.
You could also update:
lighting fixtures
taps
shower heads
curtains
splashbacks
Tiles are generally more expensive, and will potentially need a tradesperson to install them (unless you're a confident DIYer). This will raise overall costs, unless you can find some at bargain prices.
If your budget won't stretch to new hardware, an even more cost-effective solution is to use spray paint to turn your traditional chrome hardware into a modern matte black tone, and all for around £18.
3. Reuse and refurbish
Buying brand new furniture is expensive. Often, we get rid of old furniture or avoid buying it second-hand because we want our home to look new, not outdated.
However, reupholstering, repairing and updating old or second-hand furniture can truly add character to your home whilst giving you fun new projects to work on. You could also spray paint your chairs or disguise an old sofa with a slipcover – the options are endless!
As well as reusing what you already own, why not hunt for vintage home décor and other second-hand items that will allow you to buy new furniture at affordable prices? Often, second-hand items are also better quality than you might be able to afford brand new. You can also buy something that's a little worse for wear and refurbish it.
For instance, why not use satin and semi-gloss paints on your kitchen cabinets? They're great because you can still wipe them down, and they're generally more resistant to grease build up.
Check out charity shops, online marketplaces, car boot sales, auction houses and outlets for bargain prices.
4. Declutter
As well as buying and repurposing items, another way to give your home a fresh look is to get rid of any old or damaged pieces that are ruining your home's aesthetic. If you can't fix it, get rid of it!
Even better, why not sell them to get a bit of money back to spend on your next renovation project? Worn furniture and fixtures can then be replaced by buying discounted or second-hand bargain finds.
Need help moving or installing your new furniture and fixtures? A local handyperson can help you get everything just right.
FIND A LOCAL HANDYPERSON
5. Rethink your space
Focusing on the layout of your home's interior design can really help you make the most of your space, and at zero additional cost.
Often, we get tired of our home's décor, not realising that moving things around acts as an instant refresh, making your home seem brand new without having to spend any money. Move living room furniture into a bedroom or rotate the décor on your bookshelf to your coffee table to prevent your much-loved pieces from turning static.
Sometimes, you have to move things around to be able to visualise a space in new ways, so have a go at starting fresh with the items you already own.  
Are you ready to give your home an affordable new look?
Budget decorating is easier than it looks. Just follow the hacks in this blog to get started.
Make sure you always do your research before buying any new materials, so you can guarantee you're getting the best prices. Only opt for DIY if you feel confident completing the project, otherwise hire top quality tradespeople. It will save you money in the long run avoiding costly repairs. As the saying goes, do it once and do it well!
FIND A LOCAL TRADESPERSON